Counseling Services in Bloomfield Hills MI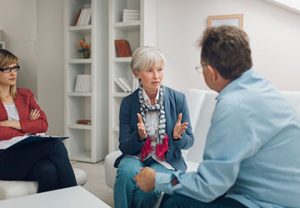 Oakland Psychological Clinic provides a range of counseling services in Bloomfield Hills MI. We have many therapists and psychiatrists on staff to assist you and your family. This is a confidential, judgment-free space for you to share your story. Whether you need short-term support or long-term coping strategies, we're here for you.
Personalized Anxiety Treatment and Phobia Treatment
Depression Counseling, Including Grief Counseling and Trauma Counseling
Medication Management and Other Psychiatric Services
Evidence-Based Addiction Treatment through Counseling
Psychological Testing
Couples Counseling and Premarital Counseling
Marriage Counseling and Divorce Prevention
Family Counseling, Including Blended Family Counseling and Co-Parenting Counseling
Child and Teen Counseling
Anger Management and Stress Management
And Other Counseling Services in Bloomfield Hills MI
Our counseling services fit most insurance plans, including those from Blue Cross/Blue Shield, Blue Care Network, Cofinity Network, Aetna, Priority Health, Meridian Choice, Medicare, Humana, HAP, Beacon Health Options, Magellan, Tricare, Cigna, and other insurance networks. If your insurance network is not on our list, we also offer out-of-network services, when accepted. Contact us at (248) 322-0001 to learn more about your options.
Comprehensive Counseling Services for Life's Toughest Transitions
Every person faces challenges in life. You deserve dependable support through those challenges. With Oakland Psychological Clinic, you have someone to talk to no matter what arises. From family conflicts to stress management, your therapist will be there for you. If you want truly personalized counseling services, contact our Bloomfield Hills therapist office: (248) 322-0001.
Licensed Therapists and Psychiatrists in Bloomfield Hills MI
At Oakland Psychological Clinic, we offer psychiatry and counseling services in Bloomfield Hills MI. If you need medication as part of your mental health treatment, we have licensed psychiatrists on staff. Your therapist and psychiatrist can coordinate care to ensure you receive the best treatment possible. With our counseling center, you are always a top priority.
Oakland Psychological Clinic
2550 S Telegraph Road
Ste 250
Bloomfield Hills, MI 48302
We have appointments available Monday through Friday, including evening hours Monday through Thursday. Contact us to schedule an appointment at your convenience.
Schedule an Appointment Today
Please contact the clinic directly to cancel/reschedule appointments

Counseling Services Lake Orion MI
Counseling Services Grand Blanc MI
Counseling Services Flint MI
Counseling Services Milford MI
If You're Interested in Counseling Services in Bloomfield Hills MI, Call Oakland Psychological Clinic | (248) 322-0001