Anger Management in Flint MI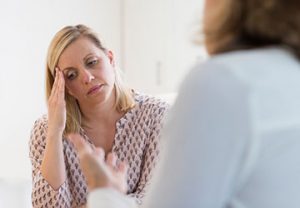 Going through anger management is nothing to be ashamed of. In fact, it shows a great deal of strength in your pursuit of self-improvement. Whether you've recently noticed anger issues or you've struggled with them for a while, there are proven solutions you can utilize. Oakland Psychological Clinic offers affordable and confidential anger management in Flint MI. Our office is located at:
Oakland Psychological Clinic – 2222 S. Linden Road, Ste. J, Flint, MI 48532
Appointments are available from 8:30 AM to 8:30 PM Monday through Thursday, and 8:30 AM to 5:00 PM on Friday. Contact us at (810) 732-0560 to schedule an appointment for anger management in Flint MI.
Personalized Anger Management Solutions Fit for Your Life
The anger management strategies that work for someone else may not work for you. That is why we provide custom anger management in Flint MI. The advice you get will be tailored to your personality, your concerns, your goals, and other factors. Your therapist will work with you to find calming techniques that truly fit your needs.
Find the Root Cause of Your Anger Management Struggles
Learn Coping Strategies That Work for Your Personality, Your Lifestyle and Your Goals
Rebuild Relationships with Your Loved Ones
Discuss Your Experiences in a Safe, Comfortable Space
Bring Closure to Past Traumas That Impact Your Life Today
Get Comprehensive Counseling from a Licensed Therapist, Including Anxiety and Depression Treatment
Anger management counseling is compatible with insurance. Oakland Psychological Clinic accepts Humana, Cofinity Network, Tricare, Blue Cross/Blue Shield, Meridian Choice, Cigna, HAP, Magellan, Medicare, Aetna, Blue Care Network, Beacon Health Options, Priority Health, and plans from other insurance networks. Contact us at (810) 732-0560 to learn more about anger management in Flint MI.
A Judgement-Free Space to Talk about Your Experiences
With Oakland Psychological Clinic, you never have to worry about being judged for your struggles. We are here to help you find tools to improve your quality of life, regardless of your circumstances. This is a comfortable space for anger management in Flint MI, and you will know that from the moment you walk through the doors.
Schedule an Appointment Today
Please contact the clinic directly to cancel/reschedule appointments
Call (810) 732-0560 to Start Your Journey through Anger Management in Flint MI

Anger Management Lake Orion MI
Anger Management Milford MI
Anger Management Bloomfield Hills MI
Anger Management Grand Blanc MI