Anger Management in Michigan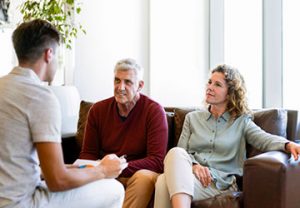 Oakland Psychological Clinic provides confidential, evidence-based anger management in Michigan. We have offices in Bloomfield Hills MI, Fraser MI, Flint MI, Grand Blanc MI, Milford MI, Livonia MI, Southfield MI, and Lake Orion MI. Therapy appointments are available Monday through Thursday from 8:30 AM to 8:30 PM and Friday from 8:30 AM to 5:00 PM. Reach out to the Oakland Psychological Clinic nearest to you to learn more about anger management counseling in Michigan.
Proven Anger Management Strategies Personalized for You
Some anger management techniques may not work for you. Your therapist will help you find the right coping and calming strategies for your personality, lifestyle, and experiences. This personalized approach ensures long-term success with anger management in Michigan.
Coping Techniques That Focus on the Root Cause of Your Anger Management Issues
Effective Therapy to Help You Overcome Trauma from Your Past
Evidence-Based Anger Management Strategies That Are Tailored for You Specifically
Creative Solutions for Life's Toughest Obstacles
Stress Management Techniques That Work Now and in the Future
Licensed Anger Management Therapists and Psychiatrists
Individual Counseling, Family Counseling, and Couples Counseling Available
Convenient Appointment Times – We're Open until 8:30 PM!
Insurance-Friendly Counseling Services from a Trusted Counseling Group in Michigan
Oakland Psychological Clinic is a trusted name in mental healthcare. We have high referral rates, including many client-to-client referrals. Give us a call to schedule a consultation for anger management in Michigan, or to learn more about the many counseling services we have in our offices.
Affordable Counseling Solutions for the Whole Family
Did you know that anger management therapy is compatible with insurance? Most of our counseling services are, including couples therapy, depression counseling, family counseling, and anxiety treatment. We accept plans from Humana, Aetna, Meridian Choice, Medicare, Blue Cross/Blue Shield, Cigna, HAP, Beacon Health Options, Cofinity Network, Magellan, Blue Care Network, Priority Health, Tricare, and other insurance providers. We will gladly verify your insurance for you to tell you what your co-pay will be. Contact one of our Michigan therapist offices to learn more.
Schedule an Appointment Today
Please contact the clinic directly to cancel/reschedule appointments

Anger Management Lake Orion MI
Anger Management Flint MI
Anger Management Milford MI
Anger Management Bloomfield Hills MI
Anger Management Grand Blanc MI
Contact the Oakland Psychological Clinic nearest to Schedule an Appointment for Anger Management in Michigan