Psychological Testing in Milford MI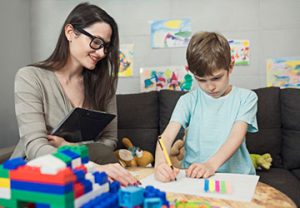 Looking for a psychological testing center near you? Oakland Psychological Clinic offers many assessment services for children, adults, businesses and individuals. We receive many referrals for psychological testing in Milford MI because our psychologists have strong reputations. We truly care about our clients, and you will know that from the moment you schedule an appointment. Our therapist office is located at:
Oakland Psychological Clinic: 1800 N. Milford Road Ste. 100, Milford, MI 48381
We are an insurance-friendly counseling center. Our psychological testing services are compatible with Blue Cross/Blue Shield, HAP, Beacon Health Options, Magellan, Tricare, Cofinity Network, Cigna, Humana, Aetna, Meridian Choice, Medicare, Blue Care Network, Priority Health, and other insurance providers. To have your insurance verified or to learn more about the evaluation process, contact us at (248) 684-6400.
Highly-Accurate Psychological Testing in Milford MI
Accuracy is important in every aspect of psychological testing. This allows a person to find an effective treatmentif needed, because he or she has a sound diagnosis to follow-up on. Our psychologists have high accuracy rates for psychiatric evaluations, learning disability exams, special education assessments, and more. You will always receive top-quality care here at Oakland Psychological Clinic.
OCD Testing, Schizophrenia Testing, Bipolar Disorder Testing, and Other Psychiatric Assessments
Vocational and Personnel Evaluations
ADHD Testing, Dyslexia Testing and Learning Disability Testing
School Readiness Exams
Intellectual and Emotional Assessments
Special Education Evaluations (We Receive Many Referrals from Milford Schools)
Alcoholism Assessments and Other Substance Abuse Evaluations
Bariatric Evaluations for Clients Considering Weight Loss Surgery
To schedule an appointment for psychological testing in Milford MI, call (248) 684-6400.
Individual Counseling, Family Counseling and Psychiatry Services Available
At Oakland Psychological Clinic, we have a multi-faceted staff of licensed therapists and psychiatrists. If you would like to overcome a personal struggle or improve a relationship in your life, we have a professional here to help. Each client receives customized counseling that is suited to his or her needs. You will learn advice and techniques fit for your lifestyle, and your information will not be shared with others. Confidential and effective therapy is closer than you think.
Schedule an Appointment Today
Please contact the clinic directly to cancel/reschedule appointments

Psychological Testing Lake Orion MI
Psychological Testing Grand Blanc MI
Psychological Testing Bloomfield Hills MI
Psychological Testing Flint MI
Call Oakland Psychological Clinic at (248) 684-6400 for Schedule an Appointment for Psychological Testing in Milford MI