Psychological Testing in Grand Blanc MI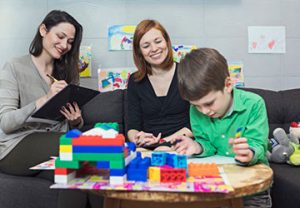 If you are in need of psychological testing in Grand Blanc MI, Oakland Psychological Clinic provides services for children and adults. We offer a range of evaluations, including learning disorder testing, bariatric evaluations, special education assessments, and much more. Our office is located at:
Oakland Psychological Clinic: 10785 S. Saginaw St. Ste. A, Grand Blanc, MI 48439
We accept many forms of insurance for psychological testing in Grand Blanc MI. This includes plans from Blue Care Network, Priority Health, HAP, Aetna, Meridian Choice, Cigna, Medicare, Magellan, Humana, Beacon Health Options, Blue Cross/Blue Shield, Cofinity Network, Tricare, and other insurance networks. Contact us at (810) 695-0055 to schedule a confidential consultation with one of our psychologists.
Complete Psychological Testing Services for Children, Teens, and Adults
Oakland Psychological Clinic is a trusted name in psychological testing and evaluations. Each client receives a one-on-one consultation to determine which psychological assessment is right for their situation. From there, we complete the assessment and provide a diagnosis or professional report. Some of our most popular testing services include:
Vocational Assessments and Personnel Evaluations
ADHD Testing and Learning Disability Testing for Children
School Readiness Exams and Evaluations for Special Education
Alcohol Addiction Assessments and Other Addiction Evaluations
Intellectual and Emotional Assessments
Bariatric Evaluations for Surgical Weight Loss Procedures
Schizophrenia Testing, Bipolar Disorder Testing, OCD Testing, and Other Psychiatric Evaluations
If you would like to learn more about psychological testing in Grand Blanc MI, call (810) 695-0055.
Counseling Solutions for Every Member of the Family
In addition to psychological testing in Grand Blanc MI, we provide counseling services and psychiatry services. Each client is matched with the best mental health provider for his or her needs. If you're interested in couples counseling or family counseling, we have those options as well. All of our services are confidential and personalized for your needs. You don't have to face tough obstacles alone. We'll help you overcome your personal struggles and enjoy a better quality of life – all right here at our safe, comfortable therapist office in Grand Blanc.
Schedule an Appointment Today
Please contact the clinic directly to cancel/reschedule appointments

Psychological Testing Lake Orion MI
Psychological Testing Flint MI
Psychological Testing Bloomfield Hills MI
Psychological Testing Milford MI
To Schedule an Consultation for Psychological Testing in Grand Blanc MI, Call (810) 695-0055