Psychological Testing in Bloomfield Hills MI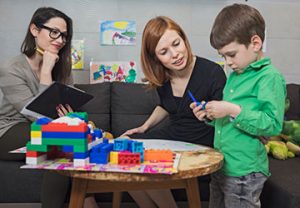 Oakland Psychological Clinic offers counseling, psychiatry, and psychological testing in Bloomfield Hills MI. We provide psychological assessments for children and adults, including:
Bariatric Evaluations for Adults Considering Weight Loss Surgery
Vocational Assessments and Personnel Evaluations
ADHD and ADD Testing
Learning Disability Testing, Including Dyslexia Testing
School Readiness Exams
Special Education Evaluations
Addiction Evaluations
Intellectual Testing and Emotional Assessments
Psychiatric Evaluations, Such as Bipolar Disorder Testing, Schizophrenia Testing and OCD Testing
Psychological testing is compatible with insurance, including plans from Blue Care Network, Cofinity Network, Priority Health, Humana, Meridian Choice, Cigna, Medicare, HAP, Beacon Health Options, Magellan, Aetna, Blue Cross/Blue Shield, Tricare, and other insurance networks. Contact us at (248) 322-0001 to learn more.
How Does Psychological Testing Work?
There are many forms of psychological testing, so the experience varies from one person to the next. Some people get an evaluation before a job transition or medical procedure. Others seek psychological testing to identify a learning disability, mood disorder, psychiatric condition, etc. In those cases, the goal is to pinpoint the source of a personal struggle so a person can find an effective route of treatment. Here is an overview of the process:
Come in for a Consultation with One of Our Licensed Psychologists
Determine Which Psychological Testing Services Are Right for You or Your Child
Plan for an Evaluation at a Time That Suits Your Schedule
Get a Detailed Diagnosis or Results Report
Receive Referrals for Follow-up Treatment or Testing, If Needed
If you would like to set up a consultation for you or a loved one, contact Oakland Psychological Clinic at (248) 322-0001. We will gladly answer any questions you have about psychological testing in Bloomfield Hills MI.
Counseling and Psychiatry Services in Bloomfield Hills MI
Oakland Psychological Clinic is a full-service counseling center. On top of providing psychological testing in Bloomfield Hills MI, we offer depression treatment, addiction treatment, anxiety counseling, couples counseling, medication management, child counseling, family therapy, and much more. You or your family will be matched with the best provider for your specific needs. Our office is located at:
Oakland Psychological Clinic
2550 S Telegraph Road
Ste 250
Bloomfield Hills, MI 48302
Schedule an Appointment Today
Please contact the clinic directly to cancel/reschedule appointments

Psychological Testing Lake Orion MI
Psychological Testing Grand Blanc MI
Psychological Testing Flint MI
Psychological Testing Milford MI
To Learn More about Psychological Testing in Bloomfield Hills MI, Call (248) 322-0001