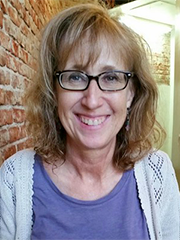 Julie Bernhard, MA, LLP, CAADC
Populations Served:
Adolescents, Adults, Seniors
Symptoms/Disorders Treated & Areas of Special Interest
Abuse and Neglect, ACOA, ADD/ADHD, Aging, Anger, Adjustment Issues, Adult Survivors of Sexual Abuse, Adult Survivors of Abuse, Anxiety/Panic/Phobia, Behavioral Addiction, Behavioral Problems, Bi-Polar Disorder, Blended Family Issues, Bullying,  Chronic Pain and Illness, Co-Dependency, Communication/Relational Issues, Depression, Dissociative Disorders, Divorce Recovery, Domestic Violence, Eating Disorders, Family Issues, Grief and Loss, Life Transitions, Marital Counseling, Military/Veteran's Issues, Mood Disorders, Obsessive Compulsive Disorder, Oppositional/Defiant Behaviors, Parenting Issues, Pre-Marital Counseling, Psychological Testing, PTSD, Reactive Attachment Disorder, Self-Control/Impulse Issues, Self-Esteem Issues, Self-Injury, Severe and Persistent Mental Illness, Sexual Abuse, Sexual Addiction, Single Parenting, Social Problems, Stress Management, Substance Abuse, Trauma and Abuse, Women's Issues
My passion is helping people function to the best of their ability and reach their goals. I have been providing therapy for people with mental health and substance use problems since 1988. I have a Master of Arts in Counseling and I am a Limited Licensed Psychologist. I am a Certified Advanced Alcohol and Drug Counselor. My approach to the treatment of substance use problems includes therapy, education, relapse prevention skills, and developing a healthy non-using lifestyle. I also provide therapy for clients who participate in medically assisted treatment for substance use problems.
I am adept at working with people experiencing addiction, gambling problems, anxiety, obsessive-compulsive behaviors, ADHD, depression, and self-esteem issues. I work with adults and families on parenting and relationships. I provide psychological assessments. With my client's permission, I consult with significant people in my client's life.
I provide individual therapy for women and men who experienced trauma including Post Traumatic Stress Disorder. I provide psychological testing including IQ, personality, projective, and achievement testing. I provide therapy for adolescents and adults with ADHD, anxiety, OCD, depression, autism, and adjustment issues.
Schedule an Appointment Today
Please contact the clinic directly to cancel/reschedule appointments