Medication Management in Milford MI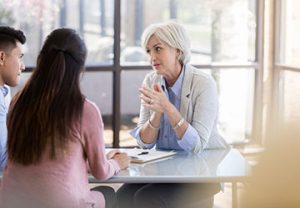 If you are in need of medication management in Milford MI, Oakland Psychological Clinic offers a range of services to suit you. We have licensed psychiatrists on staff with years of experience in mental healthcare. Our counseling center is located at:
Oakland Psychological Clinic: 1800 N. Milford Road Ste. 100, Milford, MI 48381
Medication management is compatible with many insurance plans, including those from HAP, Meridian Choice, Medicare, Blue Care Network, Cofinity Network, Cigna, Priority Health, Humana, Aetna, Blue Cross/Blue Shield, Beacon Health Options, Magellan, Tricare, and other insurance networks. Contact our Milford MI office at (248) 684-6400 to schedule an appointment.
Therapy and Medication Management under One Roof
Many clients use a combination of counseling and psychiatry services. If therapy is an integral part of your treatment, you can have all your needs met at one office. Our multidisciplinary staff of counselors, psychiatrists, and therapists is here to serve you. You will be matched with the best providers for your needs, and your privacy is always protected.
Depression Treatment, Anxiety Treatment, Addiction Treatment, and Other Services
Counseling for Men, Women, Children, Couples, and Family
Medication Management and Other Psychiatry Services
No Judgement Here! Comfortable Mental Healthcare Protected by Top Confidentiality Standards
Personalized Care That Is Compatible with Insurance
Long-Term Solutions Fit for Your Lifestyle
To learn more about our services or to schedule a consultation for medication management in Milford MI, call (248) 684-6400. We can verify insurance before your first appointment to provide a transparent price for you.
Convenient Appointment Times and Affordable Psychiatry Services
At Oakland Psychological Clinic, we understand that life today is busy and chaotic. You may not always have time to schedule appointments during traditional business hours. That is why we offer evening appointments four days a week. Medication management should be accessible and affordable. We strive to ensure it's both. If you have any questions about the process, we will answer them without judgment. Contact our Milford MI counseling center to talk to one of our friendly staff members.
Schedule an Appointment Today
Please contact the clinic directly to cancel/reschedule appointments

Medication Management Flint MI
Medication Management Lake Orion MI
Medication Management Bloomfield Hills MI
Medication Management Grand Blanc MI
Call (248) 684-6400 to Set up an Appointment for Medication Management in Milford MI