Family Counseling in Grand Blanc MI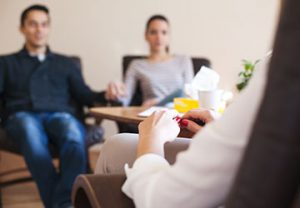 If you are looking for a safe place to resolve family issues, we would be happy to help. Oakland Psychological Clinic provides family counseling in Grand Blanc MI, along with a slew of other counseling services. Our therapy programs are compatible with many insurance networks, including Medicare, Magellan, Blue Care Network, Blue Cross/Blue Shield, Aetna, Tricare, Cofinity Network, Priority Health, Humana, Meridian Choice, Cigna, HAP, Beacon Health Options, and others.
To schedule an appointment or to learn more about family counseling, contact our Grand Blanc therapist office at (810) 695-0055.
Communication Strategies Customized for Your Family
Does it feel like you have the same arguments over and over again? Do you feel disconnected from your children or your spouse? These are issues that you can resolve in family counseling. All of our counseling services are personalized, which means that you will learn strategies fit for your family specifically. Whether you need co-parenting advice, teen counseling, blended family counseling, conflict resolution strategies, trauma counseling, or other forms of therapy, we can provide a custom solution for your family.
Identify the Root Cause of Family Conflicts
Find Effective Solutions for Each Obstacle
Improve Your Communication Skills and Resolve Long-Term Disputes
Work through Marital Issues with Marriage Counseling and Divorce Prevention
Learn Lifestyle Changes That Could Improve the Household Dynamic
Speak out in a Confidential, Comfortable Environment
Get Matched with the Best Therapist for You and Your Family
Call (810) 695-0055 to schedule an appointment with a family counselor near you.
Comprehensive and Confidential Counseling Services in Grand Blanc MI
Your privacy is protected at Oakland Psychological Clinic. We want you to feel confident sharing your thoughts and feelings during your therapy sessions. If you would like a combination of individual counseling and family counseling in Grand Blanc MI, we can accommodate your needs. Our multidisciplinary team of therapists and psychiatrists cover many areas of mental healthcare and relationship building. Our family counseling center is located at:
Oakland Psychological Clinic
10785 S. Saginaw St.
Ste. A
Grand Blanc, MI 48439
Schedule an Appointment Today
Please contact the clinic directly to cancel/reschedule appointments

Faith Based Counseling Flint MI
Faith Based Counseling Bloomfield Hills MI
Faith Based Counseling Lake Orion MI
Faith-Based Counseling Milford MI
If You're Interested in Family Counseling in Grand Blanc MI, Call (810) 695-0055