Family Counseling in Flint MI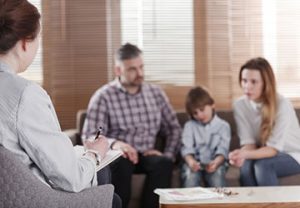 Trying to resolve a conflict in your family? Consider family counseling. This gives you an opportunity to let your voice be heard and understand how your family members truly feel. With guidance from a licensed family counselor in Flint MI, you can learn how to overcome your struggles and strengthen your bond as a family.
Oakland Psychological Clinic provides affordable family counseling in Flint MI. Our therapist office is located at:
Oakland Psychological Clinic: 2222 S. Linden Road, Ste. J, Flint, MI 48532
We are open Monday through Thursday, 8:30 AM to 8:30 PM, and Friday from 8:30 AM to 5:00 PM. Give us a call at (810) 732-0560 to schedule an appointment with a family counselor in your area.
Personalized Counseling for Children and Adults
Our family counselors work with clients of all ages. Children and adults have different perspectives on events. A passive memory for an adult may be a traumatic memory for a child. Family therapists understand these unique perspectives, and they know how to cater to them. At Oakland Psychological Clinic, we provide personalized family counseling in Flint MI that is adjusted for your family specifically.
Family Counselors Who Specialize in Child Counseling, Teen Counseling, Couples Counseling, and Adult Counseling
Conflict Resolution Strategies Fit for Your Household
Tailored Solutions for Long-Term Family Disputes
Blended Family Counseling for Stepparents and Adoptive Parents
Licensed Therapists with Years of Experience
A Highly Rated Counseling Center in Flint MI
If you would like more information about family counseling in Flint MI, contact our office at (810) 732-0560. The call is completely confidential.
Affordable Family Counseling – We Work with Many Insurance Providers
In an effort to provide affordable, top-quality mental healthcare, we have partnered with many insurance networks. These include Priority Health, HAP, Tricare, Humana, Cigna, Blue Cross/Blue Shield, Beacon Health Options, Blue Care Network, Aetna, Medicare, Magellan, Meridian Choice, Cofinity Network, and other insurance providers. Contact us about family counseling in Flint MI, and we will help you see just how accessible it is for your family.
Schedule an Appointment Today
Please contact the clinic directly to cancel/reschedule appointments

Family Counseling Lake Orion MI
Family Counseling Milford MI
Family Counseling Grand Blanc MI
Family Counseling Bloomfield Hills MI
To Learn More about Family Counseling in Flint MI, Call (810) 732-0560