Depression Treatment
near You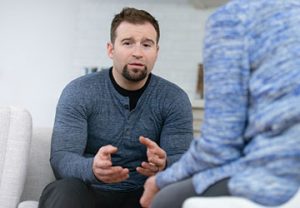 Millions of Americans are affected by depression every year. That doesn't mean you have to fight the battle on your own. With tested and proven therapy techniques, you can pinpoint the cause of your depression and create an attainable plan to overcome that.
Oakland Psychological Clinic offers affordable depression treatment near you. When you contact us, we will match you with a licensed depression counselor with years of experience. It doesn't matter how long you've lived with depression or how severe your depression may be. We have solutions for you. Reach out today to start your journey to better mental health.
Judgment-Free Depression Counseling
You may be hesitant about therapy because you don't want to be judged for your past. That is never a concern here at Oakland Psychological Clinic. We provide non-judgmental counseling for all ages and all circumstances. We simply want to help you find a solution for your struggles. With depression counseling, you can…
Reverse Negative Thought Patterns That May Be Fueling Your Depression
Get to the Root of Your Depression So You Can Truly Conquer It
Discuss Your Feelings in a Completely Confidential Environment
Learn How to Manage Depression Symptoms in Real Time
Work with the Same Depression Counselor at Every Session
Find Solutions That Work for You Specifically
Get Support When New Hurdles Emerge
Tackle Obstacles in Your Life Like a Pro
Depression treatment is covered under many insurance plans. We accept Medicare, Cofinity Network, Aetna, Blue Care Network, Humana, Priority Health, Cigna, Tricare, Beacon Health Options, Meridian Choice, Blue Cross/Blue Shield, HAP, Magellan, and other insurance options. If you'd like to learn more about Depression Treatment near you, contact Oakland Psychological Clinic.
We Have Evening Appointments Available
Your schedule may not allow for midday appointments. That shouldn't stop you from seeing a therapist. At Oakland Psychological Clinic, you can look forward to accessible depression treatment near you. We have evening appointments four nights a week to work around your busy schedule. Our office hours are:
Monday through Thursday: 8:30 AM – 8:30 PM
Friday: 8:30 AM – 5:00 PM
Schedule an Appointment Today
Please contact the clinic directly to cancel/reschedule appointments

Depression Treatment Grand Blanc MI
Depression Treatment Flint MI
Depression Treatment Bloomfield Hills MI
Depression Treatment Lake Orion MI
Depression Treatment Milford MI
To Schedule an Appointment for Depression Treatment near You, Contact Us