Couples Counseling near You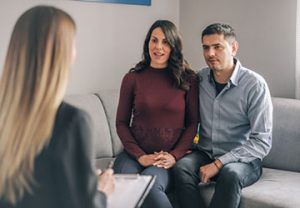 Want to improve communication in your relationship? Couples counseling is a great platform for that. With couples therapy, you can find communication strategies that work specifically for your relationship dynamic. Whether you are vocal, shy, or somewhere in between, there are communication techniques that can work for you. Oakland Psychological Clinic offers many forms of couples counseling near you, including:
Marriage Counseling and Divorce Prevention
Premarital Counseling and Confidential Couples Counseling
Post-Divorce Counseling and Blended Family Counseling
Counseling after Infidelity
Stress Management and Anger Management
Faith-Based Couples Counseling near You
And Other Judgement-Free Counseling Services
Our couples therapy programs are compatible with insurance, including plans from Cofinity Network, Cigna, Blue Care Network, Tricare, Aetna, Meridian Choice, Humana, Blue Cross/Blue Shield, HAP, Priority Health, Medicare, Beacon Health Options, Magellan, and other insurance providers. If you would like to learn more about our programs, contact Oakland Psychological Clinic.
Couples Counseling for Every Turning Point in Your Relationship
Each couple faces challenges, no matter how long they have been together. As life takes you on new journeys, your relationship has to adjust to new challenges. With couples counseling, you can navigate the transitions with positive support and effective advice. Your therapist will help you identify the root cause of relationship struggles and find solutions to address them.
When you contact us to schedule an appointment, we will match you with a licensed couples therapist. We have multiple locations in Michigan, so you have a strong chance of finding affordable couples counseling near you. Answer some simple questions about your needs, and we will find the right therapist for you. The entire process is confidential.
Affordable and Accessible Couples Counseling near You
With couples counseling, there are multiple schedules to work around. We understand that this may make it difficult to find an appointment time that fits both of your needs. Oakland Psychological Clinic has extended office hours four days a week to provide accessible couples counseling near you. Our counseling centers are open:
Monday through Thursday: 8:30 AM – 8:30 PM
Friday: 8:30 AM – 5:00 PM
Schedule an Appointment Today
Please contact the clinic directly to cancel/reschedule appointments

Couples Counseling Grand Blanc MI
Couples Counseling Flint MI
Couples Counseling Bloomfield Hills MI
Couples Counseling Lake Orion MI
Couples Counseling Milford MI
Your Relationship Improvement Starts with a Phone Call to Our Flint, MI Couples Counseling Center