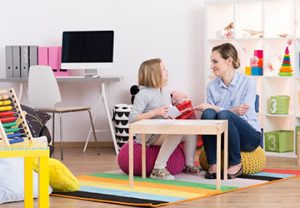 If you're in need of a child psychiatrist in Grand Blanc MI, our specialists are here to assist you. Oakland Psychological Clinic has a multi-disciplinary staff, including psychiatrists, therapists, and counselors. We take the time to match our clients with the ideal providers for their needs. This ensures that your child receives the best care possible from the start. Our office is located at:
Oakland Psychological Clinic: 10785 S. Saginaw St. Ste. A, Grand Blanc, MI 48439
To get started, contact us at (810) 695-0055. Our knowledgeable staff members can arrange a consultation with a child psychologist or child psychiatrist in Grand Blanc MI.
Complete Mental Healthcare for Children, Teens, and Adults
Oakland Psychological Clinic provides mental health services for the whole family. Is your teen struggling in school? Do you need help with co-parenting? Does your child have difficulties in social settings? We have specialists on staff to help with all of these circumstances. Some of our most sought-after counseling services in Grand Blanc include:
Anxiety Counseling and Depression Counseling
Co-Parenting Counseling
Blended Family Counseling
Marriage Counseling and Divorce Prevention
Family Counseling and Couples Counseling
Grief Counseling
Trauma Recovery and PTSD Treatment
Child Counseling
Teen Counseling
Faith-Based Counseling
Medication Management and Psychiatry Services
Anger Management
And Other Psychiatry and Counseling Services
This is a confidential, non-judgmental space to discuss your struggles. Whether you work with a family counselor, addiction counselor, grief counselor, child psychiatrist, or other providers, you will receive top-quality care from Oakland Psychological Clinic. Give us a call at (810) 695-0055 to reach our Grand Blanc counseling center.
Child Psychiatry Appointments Are Compatible with Insurance
You do not have to pay a fortune to see a child psychiatrist. Psychiatry appointments are covered under many insurance plans, leaving only a small co-pay out-of-pocket. Oakland Psychological Clinic accepts insurance from Beacon Health Options, Medicare, Humana, Priority Health, Magellan, Aetna, Tricare, Cofinity Network, Cigna, Blue Cross/Blue Shield, HAP, Meridian Choice, Blue Care Network, and other insurance networks. Contact us if you would like to verify your insurance coverage.
Schedule an Appointment Today
Please contact the clinic directly to cancel/reschedule appointments

Child Psychiatrist Flint MI
Child Psychiatrist Lake Orion MI
Child Psychiatrist Milford MI
Child Psychiatrist Bloomfield Hills MI
To Get Matched with a Child Psychiatrist in Grand Blanc MI, Call (810) 695-0055