Best Therapist in Lake Orion MI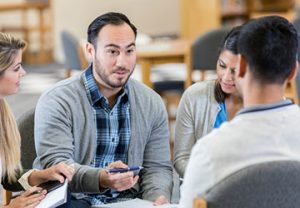 You deserve to work with the best therapist in Lake Orion MI. We are determined to help you find that person. Oakland Psychological Clinic has a multi-disciplinary staff of therapists and psychiatrists. Our providers cover many areas of mental healthcare, including:
Depression Counseling and Anxiety Counseling
Trauma and Grief Counseling
Addiction Counseling
Couples Counseling
Marriage Counseling and Divorce Prevention
Family Counseling, Child Counseling and Teen Counseling
Anger Management Therapy
And Other Counseling Programs in Lake Orion MI
When you contact our office, we will ask some simple questions to determine the best therapist in Lake Orion for you. The call and the sessions that follow are completely confidential. If you'd like to get started, reach out to us at (248) 393-5555.
Choosing the Best Therapist for Your Specific Needs
The best therapist for someone else isn't necessarily the right therapist for you. For instance, if you're looking for marriage advice, you would want to work with a marriage counselor. This ensures that you get the right advice from an experienced specialist. At Oakland Psychological Clinic, we take the time to match each client with the best provider for their needs.
Share Your Story in a Judgement-Free Setting
Get Custom Advice That Is Personalized for You
Individual and Family Counseling Sessions Available
Receive Comprehensive Counseling for All Your Personal Struggles
Learn Coping Strategies You Can Turn to Time and Time Again
Advice Based on Evidence – Care Based on Compassion
If you'd like to find the best therapist in Lake Orion MI, contact us at (248) 393-5555.
Affordable Therapy Appointments – We Accept Insurance
Our therapy and psychiatry services are compatible with insurance. We accept plans from Cigna, Medicare, Tricare, Blue Cross/Blue Shield, Magellan, Aetna, Beacon Health Options, Priority Health, Cofinity Network, Blue Care Network, Humana, Meridian Choice, HAP, and other insurance providers. That means you can see the best therapist near you without worrying about the cost. Our office is located at:
Oakland Psychological Clinic
1455 S. Lapeer Road
Ste. 175 North
Lake Orion, MI 48360
Schedule an Appointment Today
Please contact the clinic directly to cancel/reschedule appointments

Best Therapist Milford MI
Best Therapist Bloomfield Hills MI
Best Therapist Grand Blanc MI
To Find the Best Therapist in Lake Orion MI for You and Your Family, Call (248) 393-5555