Best Therapist in Grand Blanc MI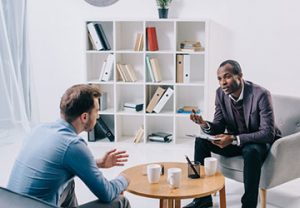 Want the best therapist Grand Blanc MI has to offer? At Oakland Psychological Clinic, we have a diverse staff of mental health professionals. From individual counseling to family and marriage counseling, we do it all. Our licensed therapists are experienced and eager to help you overcome your struggles. Some of our services include:
Depression Counseling
Grief and Trauma Counseling
Addiction Counseling
Anxiety Treatment
Marriage Counseling, Couples Counseling, and Divorce Prevention
Family Counseling, Including Blended Family Counseling and Co-Parenting Counseling
Child Counseling
Teen Counseling
Faith-Based Counseling
Anger Management
And Other Counseling Services
If you are in need of medication management or psychiatry, we provide those options as well. Our therapists and psychiatrists work closely with one another to offer comprehensive care and treatment. No matter what struggles you are currently facing, you can find coping strategies to get you through them. Learn more about our evidence-based therapy solutions by calling (810) 695-0055. We look forward to finding the best therapist in Grand Blanc MI for you.
We'll Match You with the Best Therapist for Your Needs
If you're looking for the best therapist, it's important to find someone tuned into your needs. For example, if you are having marital issues, you might need a marriage counselor. If you are dealing with grief, you might need a grief counselor. You can still get comprehensive mental healthcare with any provider, but some may have more experience that aligns with your goals. We will make sure you work with the best therapist in Grand Blanc MI for your unique needs. Contact Oakland Psychological Clinic at (810) 695-0055 to get started.
The Affordable Care Your Family Deserves
To keep our counseling services affordable and accessible, we have working relationships with many insurance providers. We accept plans from Humana, Medicare, Cofinity Network, Blue Cross/Blue Shield, Priority Health, HAP, Meridian Choice, Beacon Health Options, Blue Care Network, Aetna, Tricare, Cigna, Magellan, and other insurance networks. Our office is located at:
Oakland Psychological Clinic
10785 S. Saginaw St.
Ste. A
Grand Blanc, MI 48439
Schedule an Appointment Today
Please contact the clinic directly to cancel/reschedule appointments

Best Therapist Milford MI
Best Therapist Lake Orion MI
Best Therapist Bloomfield Hills MI
You Deserve the Best Therapist in Grand Blanc MI | Call (810) 695-0055 to Get Started