Addiction Counseling near You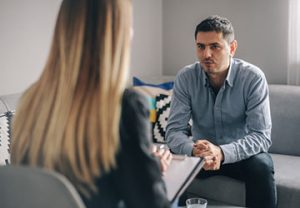 If you are looking for confidential addiction counseling near you, Oakland Psychological Clinic may be a perfect fit. We have a diverse staff of mental health experts, ranging from addiction counselors to grief therapists and family counselors. No matter how long you have suffered from addiction, there are solutions available for you. Let us point you in the right direction. With our addiction counseling services, you can enjoy…
Completely Confidential Therapy Sessions
Judgement-Free Addiction Counseling near You
Effective Solutions Personalized for Your Needs
Coping Strategies for Addiction Triggers, Anxiety, Depression and More
Positive Support through Drug and Alcohol Addiction Recovery
Individual and Family Therapy Available
Insurance-Friendly Addiction Counseling Services
Oakland Psychological Clinic accepts insurance from Tricare, Medicare, Priority Health, Humana, Magellan, Beacon Health Options, Blue Cross/Blue Shield, HAP, Cofinity Network, Cigna, Meridian Choice, Aetna, Blue Care Network, and other providers. If your insurance offers out-of-network coverage, we can work with it as well. Simply contact us to find out your coverage options.
Uncover the Root Cause of Your Addiction
The best way to treat addiction is to understand what's driving it. When did the addiction start, and what triggers it on a regular basis? Are there underlying issues that contribute to addiction, such as stress or anxiety? Once we pinpoint the source, we can formulate a coping strategy to combat it.
That is the beauty of addiction therapy. The advice is tailored to your lifestyle and your needs. If you'd like to learn more about addiction counseling near you, contact us to get matched with a therapist. The call is confidential, and so are your therapy sessions.
Evening Appointments for Addiction Counseling near You
Have a busy schedule? That doesn't have to stop you from seeing a therapist. We strive to make addiction counseling as accessible as possible. That is why we have evening appointments several days a week, to ensure our clients have a reliable support system. Our offices are open:
Monday through Thursday: 8:30 AM – 8:30 PM
Friday: 8:30 AM – 5:00 PM
Schedule an Appointment Today
Please contact the clinic directly to cancel/reschedule appointments

Addiction Counseling Milford MI
Addiction Counseling Bloomfield Hills MI
Addiction Counseling Flint MI
Addiction Counseling Lake Orion MI
Addiction Counseling Grand Blanc MI
Contact Us to Learn More about Confidential Addiction Counseling near You