We all struggle with stress and anxiety from time to time. Many of us feel symptoms in our bodies as well. When stress and anxiety pile up, the way we cope can have an impact on the way we feel physically, as well as our level of functioning in day-to-day tasks or activities. As a mental health professional, I feel that managing stress and anxiety is very important in my self-care routine to keep a sense of balance in my personal and professional life. Experiencing stability is important for my mental and physical health as this provides a foundation to assist my clients with accomplishing their goals in therapy. Oftentimes, clients have a steady grasp on their routine self-care activities such as exercise and eating well, however, when anxiety and stress get the best of them in triggering situations, a lot of clients feel lost and don't know how to get a handle on it (especially when around other people).
Stress and anxiety can affect both our minds and bodies. Symptoms may include muscle tension, headaches, bowel upset, fatigue, and more. How do we find balance and feel well? Some simple mental grounding strategies can reduce stress, and anxiety, and put our minds at
ease. Practicing mental grounding strategies for countering worry can assist us with detaching from emotional pain, and help us experience a sense of calm. Grounding ourselves allows us to redirect our thoughts outward instead of inward, and encourages a healthy detachment from stress. Do you want to feel centered? Here are 10 quick and useful strategies that you can do virtually anywhere when feeling elevated symptoms of anxiety:
1) Counting slowly (ceiling/floor tiles, objects in the room, trees outside, etc.)
2) Naming (colors in a picture, objects in your environment, etc.)
3) Reciting lists in your head (sports teams, car models, all the states, famous actors whose names start with a certain letter, etc.)
4) Recite positive statements or affirmations ("I am calm, I am at peace")
5) Think of favorite colors, food, animals, seasons, music…
6) Picture people you care about
7) Recite positive songs, poems, quotes, or hum a tune
8) Picture a favorite or safe place
9) Say a coping statement or initiate positive self-talk ("I can do this! This is not my first rodeo!")
10) Think of things that you're looking forward to in the upcoming week
---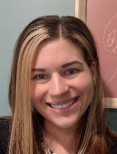 Kelly Rad LLMSW is a therapist with Refresh Mental Health and is employed at Oakland Psychological Clinic in Milford, MI. She has worked with clients to increase and achieve mental wellness through integrative treatment modalities. Kelly follows a mental wellness journey of her own and has adopted some of these strategies into her practice to assist clients with their mental wellness.
Citation: Leahy, Robert L., et al. Treatment Plans and Interventions for Depression and Anxiety Disorders, 2e, Guilford Publications, 2011. ProQuest Ebook Central, http://ebookcentral.proquest.com/lib/emich/detail.action?docID=800610. Created from emich on 2022-6-5 14:59:59.